Ice Cream Maker Overcomes Growing Pains
Many small companies with popular products face problems with scaling operations to sales demand. Large capital machines are too expensive to purchase and run. Manual processes do not have enough volume. A speciality ice cream manufacturer turned to Graco to help solve this problem.
Inefficient Manual Processes
In low volume production, manual pouring and dumping is the most popular means of ingredient transfer. It is low cost and doesn't require any special machines. There were drawbacks to this method. This producer was manually pouring five gallon ice cream mix bags into four individual batch freezers. This led to inconsistent product mix, wasted material and is hazardous for the employees.
To reduce material costs and increase product consistency, the company purchased ice cream base mix in 1,135 litre (300 gallon) totes. The issue remains, how to evacuate the tote and transfer the ice cream ingredients to the batch freezers?
Why Electric Diaphragm Pumps?
The Graco field team and distribution partner installed a SaniForce 2.0 1040e food grade electric diaphragm pump. The pump is either attached via hose to a valve on the bottom of the tote or evacuates material from the top using a wand. Workers forklift the totes to the pump and the pump transfers material to fixed batch freezers. The company decided on the electric diaphragm pump for several reasons.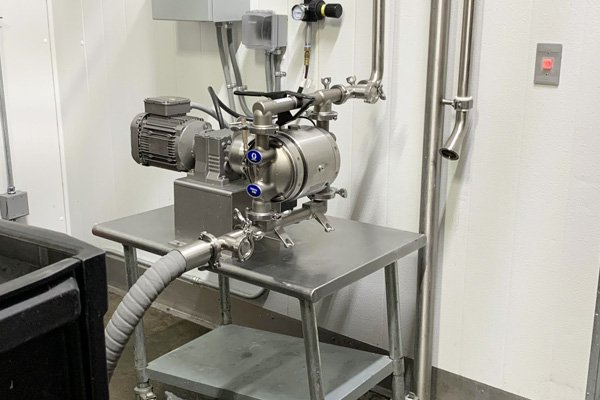 1.    Like an air diaphragm pump, the SaniForce 1040e stalls under pressure. The system uses sanitary on/off valves to call for product when needed in the freezers. When the freezers do not need mix the valve closes and flow stops, this does not damage a diaphragm pump.

2.    Diaphragm pumps do not heat, agitate, or degrade the ingredients
3.    Unlike air-operated double diaphragm pumps, the Graco electric pump consumes almost no air. There is little plant air available where the tote unloading happens, the process required an electric pump. Electric diaphragm pumps are much less expensive to run than air pumps due to high energy usage by compressors.
4.    The SaniForce e-series runs virtually silent, unlike an air diaphragm pump. This makes a high quality, safe work environment.
5.    The SaniForce EODD provided great flexibility in operational layout. Other electric pumps, like centrifugal pumps, are only able to evacuate material from the bottom of the tote. Electric diaphragm pumps have high suction and self-prime giving the ability to siphon through the top of the tote.
The best way to tell if a customer is happy with their purchase is if they buy again. The ice cream maker added a second SaniForce electric pump to supply their new continuous freezer.  A portable cart-mounted SaniForce 1040e evacuates product blend tanks and supplies a continuous and consistent flow of mix to the freezer. Graco electric pumps enabled this manufacturer to increase production and meet sales demand.